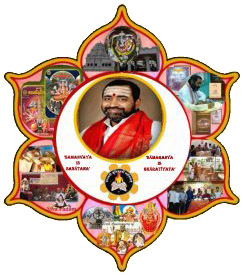 Aarshavani (Voice of Sanatana Dharma)
An English e-magazine started in February 2015 to propagate Sanatana Dharma, distributed via email across the globe upon free subscription
Articles with emphasis on Brahmasri Dr. Samavedam Shanmukha Sarma garu's Pravachanams, Writings, Compositions, Interviews etc.
Regular features such as Sri Samavedam's garu's schedule, Festivals of the Month, Traditions and Fulfillments, Spiritual Quest.
Series on 'Siva Jnanam', 'Garuda Puranam', 'Sri Adi Sankara Jnana Yagnam', 'Mahabharata' , 'The Eternal', 'Hindu Dharma – Form, Nature, and Effect'.
Exclusive corner for children with 'Bala Siksha', Vedic Mathematics, Word of Benovelonce, and many more.
News about Sri Vallabha Ganapati Temple, Sri Samavedam garu's programs, and Rushipeetham Charitable Trust.
AARSHAVANI e-MAGAZINE ARCHIVES